Jay would like to extend a heartfelt thank you to Sarah Joy Roberts who inspired him to make his first piece of orgonite-who knew then where it would lead. If you are in need of wonderful acupuncture services please visit Sarah at: Sarah Joy Roberts Acupuncture Care Center: 
1A Commons Drive Suite 4, Londonderry, NH 03053 603-425-0044
News
Watch: Jay's two interviews with Andrea Klim on Turn to the Stars originally airing on Manchester, NH TV23 cable, now up on YouTube:
"This week on Turn To The Stars TV I talk with Jay Harris of Pyramid Creations …. Jay is the owner, creator and artist of Pyramid Creations and also a Crystal Healing Therapist. Please join me and Jay and hear how he got started, what his inspiration was and what the overall purpose is of his Pyramid Creations and so much more!
Not only are his crystal pyramids conduits of positive, healing energy… they are also "absolutely beautiful!"
---
​Listen: Jay's radio interview about Orgone and Pyramid Creations on "The New Beginnings Through Healing" radio show on North Shore 104.9 WBOQ FM. Here is a link to the Podcast:
http://ns1049.podbean.com/2014/01/13/new-beginnings-through-healing-01-12-14/
---
More News
Construction on our home workshop and gallery and finally complete. If you are unable to attend any of our events, you can contact us for a private showing. In Jay's workshop, you can learn in more detail the process of creating Orgonite. In the gallery, you can shop current inventory of both Jay's Orgonite and Cheryl's photography. We would also be open to ideas for hosting small groups for spiritual get-togethers.
Please note that all private showings are BY APPOINTMENT ONLY.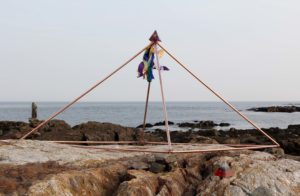 Copper Pyramids
My newest creation-a Copper Pyramid with an Orgonite Pyramid on top. Various sizes available by custom order. These pyramids are large enough for several people to sit inside. A sacred geometry space to meditate. Contact your higher self and the universal vibration and upgrade your DNA. You create what you want. I am you.
Upcoming Events

---
Wishing everyone a wonderful holiday season and a healthy and happy New Year.  Thank you for your support during 2019.

We will be posting events for 2020 soon so please check back.
__________________________